Zhuri Magazine, an up and coming African luxury magazine, held its first ever networking event titled 'A Seat at the Table' where local African fashion lovers and creatives alike joined together to connect, be inspired and learn a bit by some of Toronto's most influential African fashion creatives.
The event featured guest speakers; Nana Bediako, Bismark Adomako, Yaw Tony, Nezariel Scott, Isaac Ansah and Yomi Adefala, all of whom are making a mark in the African fashion scene in Toronto.
There is no doubt that African fashion has become very popular and trendy in the fashion industry right now and what better way to acknowledge the influence that our culture has in the industry by recognizing the work that some of our own local fashion influencers and creatives are contributing to the African fashion industry. The objective of the event, was "to build a collective of African innovators in the city, who can work towards connecting African creators and consumers".
I came through wearing a lovely African print wide leg jumpsuit by Ace Kouture and finished the look with a belt to extenuate the fit of the outfit.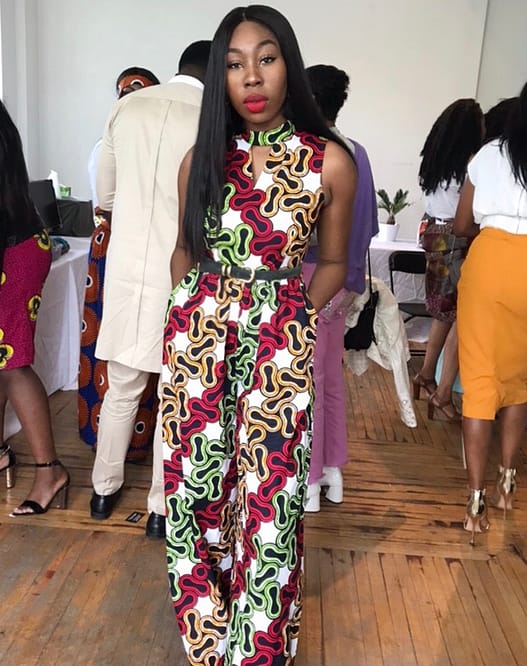 ---
For more stunning handmade African Print pieces, check out Ace Kouture website: https://www.acekouture.com/
---
The networking event treated guests to a full spread brunch and offered them the opportunity to mingle and connect with other like-minded aspiring fashion enthusiasts.  Various vendors were also present selling and displaying their work and businesses from clothes, bags, jewelry and accessories, to natural skin care, hair and health products.
I had the chance to briefly speak to some of the vendors and took a look at some the items they were selling/promoting. Check out the following links to see/learn more about their brands/products and services.
Batik Boutik– Local fashion brand that offers clothing and accessories with unique designs made in Ghana, West Africa.
African Royalty– African waist beads, paintings, handbags, jewelry and more also from Ghana, West Africa.
Mashach Jewelry– Handmade jewelry made with pieces from Uganda, Kenya and India.
Subtle Expressions & Volta Black- A son and mother collaborative brands offering custom made African clothing, jewelry and accessories.
Golden Narrative– An events planning and solutions company that offers a platform for entrepreneurs and business owners to connect through workshops and networking events.
De Lovet– Custom modern styled handbags.
After the brunch and mingling session, the guest speakers for the day had the opportunity to each briefly speak and tell us a bit about themselves, their journey, how they got started in the fashion industry and how they have reached where they are/what they currently doing in each of their respective line of work.
Each speaker's messages were very inspiring and encouraging to hear, as they were all very transparent with sharing journeys in getting to where they currently are in the African/fashion industry. One common theme of all their messages was passion, perseverance and determination.
Here are some takeaways from each speaker:
Nana Bediako– A fashion designer, creative director and a tailor best known for his amazing bespoke tailoring skills. Also known as Mr. Tailor, he is the founder of Mr.Tailor Club, "a platform designed to educate and inform gentlemen on how to dress well and understand men's attire from a tailor's perspective". Nana shared with us a bit about his background from his education where he studied painting at the University of Waterloo and recently graduated from his study of Fashion at The University of Toronto. His start in fashion was not the easiest, as he has had to make many sacrifices; such as working full time without pay. But he has stuck through with his passion and through hard work and perseverance he has been able to make a name for himself as a respected fashion influencer in the Toronto/Canadian fashion industry.
Bismark Adomako– A fashion stylist and creative director based in Toronto, who has certainly made a name for himself in the Toronto fashion scene as a social media/fashion influencer. His love for fashion began in high school where he realized his love for style and dressing well! His unique and dapper style has gained him a lot of positive attention and has even given him the opportunity to work with reputable industry outlets such as "Toronto Life Magazine, Your Morning CTV, Essence and Marks Canada.
Yaw Tony– A man of many talents. He is an architect, artist, fashion and fabric designer. With strong connection to his Christian faith, he has created a fabric and textile fashion design brand called 'Life Liveth in Me' (LLiM) inspired by both African and Western culture. The key message he shared with guests was the importance of discovering who you are in order to stand out and become a master of your craft. 4 things he mentioned for our generation 'to know' to make an impact are:
Know who you are, your identity and where you come from.
Know your potential and what you can do with your potential.
Know your vision and why you are here on earth.
Know where you're going- "when you know where you're going, no one can tell you where to go".
Nezariel Scott– A digital content producer who has had her hands in quite a few industry magazine brands such as Flare Magazine, Elle Canada and Hello Magazine where she oversees the creation of viral videos. She spoke to us about her Jamaican background and how her introverted personality got her started in her line of work. She is passionate about giving a voice to diverse and minority groups to have more of an influence in the fashion industry and will be going to South Korea to learn more about the fashion and music industry there.
Isaac Ansah – Is a business entrepreneur and the Co-Founder of African Fashion Week. He is very passionate about brand management and product development. He spoke about the importance of branding and understanding the business side of the fashion industry. Very insightful and informative to be more aware about the business side of fashion, because there is more to it than just nice clothes and Instagram worthy pictures
 Yomi Adefala– Is a fashion stylist and now the official Editor-In-Chief for Zhuri Magazine. She started off in the fashion industry as a model, but soon discovered that her talents could be best used behind the scenes as a stylist. She has extensive experience in the fashion industry and has worked on a variety of styling projects with well known African designers such as Andrea Iyamah on high fashion editorials, advertising campaigns, commercials, fashion shows and film. Her key message was the power of collaboration and connecting with with other creatives in the fashion industry.
Anita Ehui who is the founder and CEO of Zhuri Magazine spoke last to thank guests and let us know more about the Zhuri Magazine brand. The key message from her was "I believe in this so much, I cant fail".
It was definitely inspiring to be in a room filled with young like minded Africans and blacks who are all eager to make strides in the African fashion and creative industry in the city!
Check out more of Zhuri Magazine @Zhurimag on instagram!
Make sure to also download The Kscope App to stay up to date with fashion related events around the city!
Stay connected with me on social media @bossladyque !