 Last month, I had the pleasure of celebrating Africa Day with The Kscope at Africa Day Toronto event held at Noir inside REBEL Nightclub. Quite frankly, I wasn't even aware that the annual holiday existed until this year!! It was a beautiful experience to partake in a cultural fusion dedicated to the celebration of African fashion, visual art, people and music entertainment.
The event came to life through a mighty collaboration among three notable African powerhouses: Music Africa (parent company of AFROFEST), Africa All Star Music Festival and African Fashion Week Toronto. Coming together for the 2nd edition of Africa Day, they curated an evening showcasing African art creators and artists in Toronto while highlighting the togetherness, beauty and diversity within our culture.
[youtube https://www.youtube.com/watch?v=vROB8S9LvOI&w=560&h=315]
The Kscope team and I arrived in midst of the beautiful chaos taking place before the event began. I'm a sucker for being behind-the-scenes, absorbing the hustle and bustle of fellow creatives, all vigorously working towards the ultimate goal: SHOWTIME! There's something about models and designers frantically running around, sound check on the verge of bursting your ear drums and hustling press interviews that excites my soul. In short, I'd describe the feeling as the (not so) calm before the storm.
[youtube https://www.youtube.com/watch?v=6Um2ONUGvhk&w=560&h=315]
Upon arrival, I was instantly drawn to the display of artwork being set up! In the clip above, you get a glimpse of some of the astonishing cultural pieces created by talented Toronto artists Ray Creates Art, Art by Saby and Ren Thomas.
Of course, I had to follow the musical serenade taking place in the background and caught sight of the man behind the vibes as he rounded up with sound check. I swear, I could listen to his rendition of Fall by Davido all day! Akin Sax from Bantu Crew was the first performance of the evening. He quickly became one of my personal favourite acts as he played and woo'd the audience with his smooth and sultry melodies.
As the guests warmed up, Canada-based Nigerian artist, Kelly Anthony, set the tone for a hype evening, performing his latest afro-pop hits. Fun Fact: His sister is Nollywood actress, Linda Osifo!
The highly anticipated fashion show presented by African Fashion Week Toronto was eccentric and mesmerizing – as per usual.
With DJ Empire on the 1's and 2's, nor the audience or I could stand still as the models strutted down the runway. The show featured three local designers; ZNAK Designs, AJS Fashion and winner of AFWT 2017 Student Designer Competition, Phresh Empire.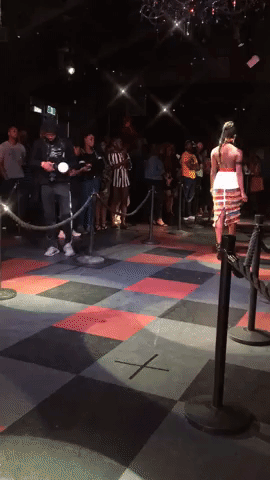 At last, it was time for the special guest of the evening, DJ Cuppy, to grace the stage! I LOVE FEMALE DJs. DJ Cuppy is a music producer and the daughter of a Nigerian billionaire, Femi Otedola. She's recently transitioned into singing as well, teaming up with Sardokie for her second single, 'Vybe'.
In addition, Cuppy has become the only female DJ out of 4 in Nigeria selected to join Pepsi as one of their latest brand ambassadors! Fun Fact: Cuppy launched her own music management and content creation company in 2014 called Red Velvet Music Group. Her company's mission is to bridge the gap between up & coming Nigerian artists, aiding to help push their content outside of Africa. Can you say #GIRLBOSS?! I always get hype over a female building an empire for themselves, especially within a male dominated industry.
Visiting Toronto for the first time, Cuppy completely shut down the dance floor – there were no pretty wallflowers at this event. It's safe to say, the turn up for Africa was all the way up this evening!
Lastly, I caught up with some of the organizers of the event backstage. Check out interviews and the video cover by The Deji Fadero below 🙂
As always,
stay hustlin' xo