If you love good African music, food, art, fashion and networking, then last month's Ebony Expressions 2018 event was the place to be! The event, held at Kiza Restaurant & Lounge  in Toronto, bookended Black History month by celebrating and showcasing cultural art, music, food and of course fashion with some of our favourite local African designers.
I arrived in style wearing a gorgeous over sized double-breasted blazer piece by The M Label finished with a slim leather waist belt and lace up block heels. This look had showing off legs for days and definitely made me feel fierce!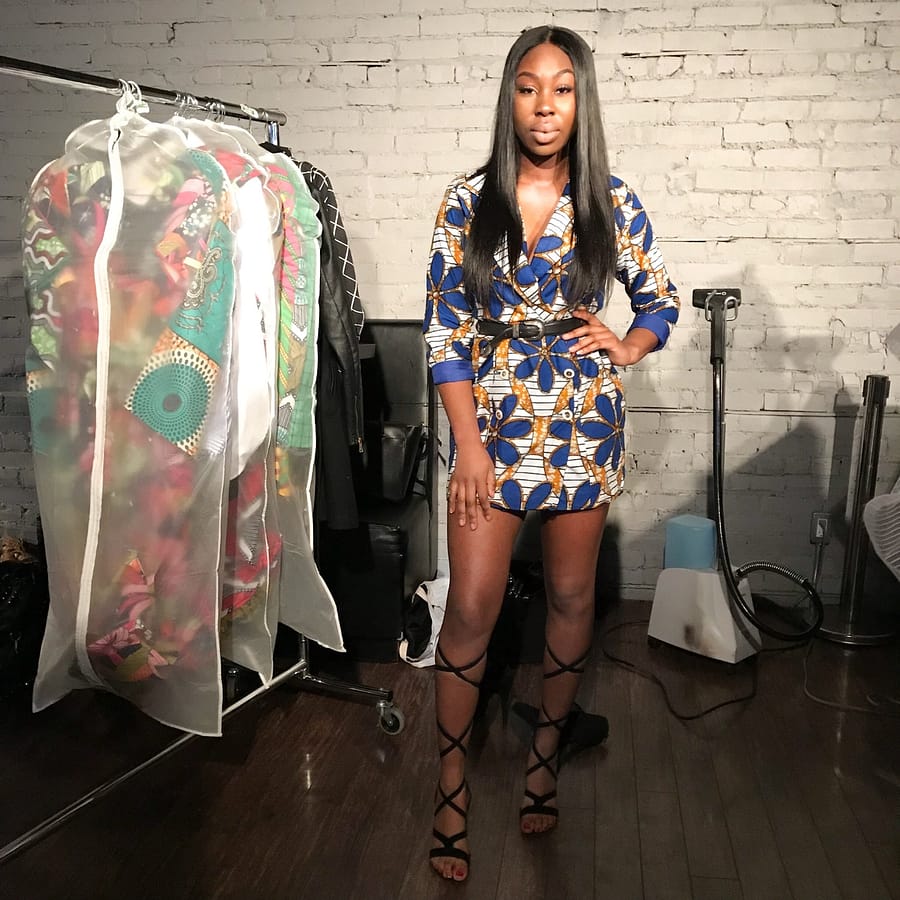 The atmosphere was electric and the room was filled with dancing and Afro-beat music by DJ Olar. Several musicians such as Blaze Campbell, Sure D and Slim Flex also blessed the crowd with live performances alongside Danny on the Saxophone, who serenaded the crowd with his beautiful stylings.
Oh, and did I mention that there was food? That's right! the aroma of delicious Afro-Caribbean cuisine being served all night long at Kiza Lounge filled the air and had mouths watering for the eclectic menu.
In addition to the great music and food, the event hosted several vendors and sponsors who displayed and sold beautiful African print clothing, art and jewelry.
Of course what would a Black History month event be without beautiful African fashion. EBEX 2018 showcased some of our favourite African designer's collections at the EBEX African inspired fashion show which featured Ace Kouture,  Omi Woods, Kyle Gervacy, and Kaela Kay.
Here's a look at some of the gorgeous pieces that were featured at the event!
Ace Kouture showcased vibrant African print, dresses, skirts and jumpsuits and I appreciated how the various styles of the pieces really demonstrated the versatility of using traditional Ankara print to create modern styles. The pastel colours complimented the bright and dark contrasting tones of the pieces as well as the simplicity, yet sophistication of the styles. The peplum bell-sleeve and wide pant leg jumpsuits pieces were an absolute a favourite of mine and definitely looks that I would rock to a semi/formal event.
Floral textiles, dashiki print dresses and pleated A-line skirts with high slits were the theme for the pieces by Omi Woods. These classy and fashionable skirts were paired perfectly with crisp white blouses, while the artfully constructed dresses made a statement on their own. I loved how prints of these fabrics were used to create very classic looks and even offered elegance to the trendy dashiki print that has become very popular in modern day fashion.
Kyle Gervacy came through with absolutely gorgeous fierce and chic pieces that truly had the crowd in awe! From the bold yellow and grey dresses to the elegant gowns and two piece sets, these pieces were truly stunning to say the least. I loved the detailing of the gold vines and flower print placed intricately onto mesh material combined with silk and cotton fabric to make the gorgeous formal gowns.
The originality of the black and white tribal print two piece top and Victorian inspired high-low skirt paired with white pants was a stand out. The look was completed with string tied around the ankle of the pants and wide bell- sleeve cuffs of the top . These pieces definitely had the right amount of originality and elegance.
Kaela Kay ended the fashion show segment with stylish jumpsuits, dresses and skirts paired with trendy blouses. The bright bold and colourful patterns of these pieces were not only aesthetically pleasing but chic and exciting. I loved how free flowing and fun the wide A line skirts were and the confidence and energy the pieces brought to the models walking in them. These eclectic pieces would be sure to turn heads at any event!
Make sure to check out more of what you missed at the event on Ebony Expressions Instagram Page! https://www.instagram.com/ebextoronto/
PhotoCred: Lady Mensah
Stay connected with me on social media @bossladyque !