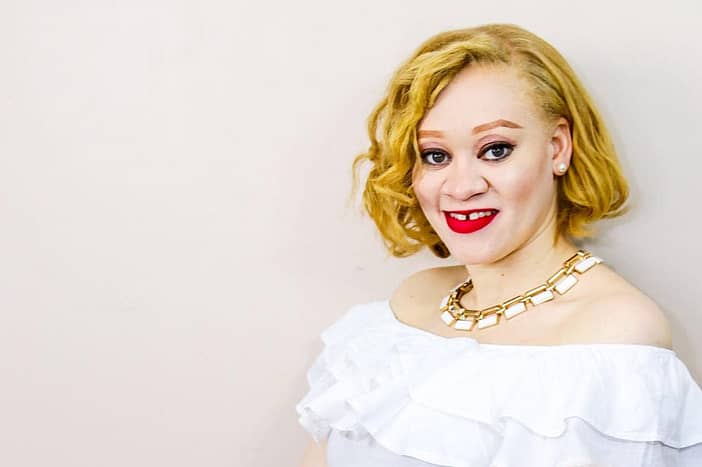 I recently had the privilege of speaking with, newly published author, Emikele Oseni-Elamah and discussing her journey so far. From culinary ambitions to her relationship with Christ, Emi shared some of the powerful motivations for her new release, Living a Meaningful Life.
Emikele Oseni-Elamah, author of Living a Meaningful Life.
Farai: To begin with, what are five things about you that you'd like our readers to know about you?
Emi: – I love cooking and trying new dishes; I dream of becoming an icon in the food industry.
– I have a BSc. in Computer Science and Business; MSc. in Management and Business Analytics; and I'm currently working as a Business Data Analyst.
– I like to think and reflect about life. I am a stickler for process and love helping people and making new friends
– I'm still growing, but I'm in love with the woman I have become.
– I am an ambassador for Christ. My relationship with Him is a beautiful, constant, work in progress, it has brought me to this point, and I believe He will still take me very far. One of my mantras is "For the sake of the kingdom"; anything driving me towards that, gives me life!
F: For those who have yet to pick up a copy of Living a Meaningful Life, what do you feel sets it apart from other books in the genre?

E: It should be very relatable because I share most, if not all, of my life experiences and the principles I've learnt from them, and continue to follow, to live a meaningful life.
More than just a self-help book, Living a Meaningful Life aims to empower readers to engage with God on an all encompassing level, and use that renewed perspective to answer the real, big, questions that arise in life. While accessible for all age groups, it's specifically aimed at young adults between 18-25, as they start to traverse the struggle of leaving family homes, developing through post secondary school, and building lives for themselves beyond that. Humility and wisdom are crucial to nurture from early in one's life,and I believe that this book should be a reference tool in schools and organizations globally.
"More than just a self-help book, Living a Meaningful Life aims to empower readers to engage with God on an all encompassing level, and use that renewed perspective to answer the real […] questions that arise in life."
F: You are also one of the founders of @MesoEats, an innovative meal delivery service that supplies fresh Nigerian meals around the GTA. Was that your first entrepreneurial effort?
E: Yes this was my first entrepreneurial effort. I'm most grateful for having had a business partner with whom I share a vision, and can watch it become reality. It wasn't easy starting this off, as I'm more of a planner than an executor, but that's why having the right relationships is key; they can thrust you into your next level.
F: How, if at all, do you think that experience influenced and/or prepared you for the process of publishing your first book?
E: It made me realize that nothing is impossible; that even if its hard work, to still set goals, remain focused on them, and remember that consistency pays. Drops of water make an ocean. It made me realize that people won't see the planning stages, they'll celebrate the result, but the result is only ever as good as the work put in. So despite how challenging the pregnancy may be, it's important not to give up and keep your eyes focused on birthing that baby and how it will grow through the years, based on that initial push.
"I'm still growing, but I'm in love with the woman I have become."
F: Did you decide you wanted to write a book and then pick a topic, or did you have these thoughts in your mind already and decide to put them to paper?
E: Having published a book by 30 was already a dream by the time I was 18. Four years and an undergraduates' degree later, God laid it on my heart to start a blog by the name Living a Meaningful Life, after a common mantra of my youth. Step by step, within the space of three years, God started making things fall into place for me to build my blog, get discovered by the appropriate people once that foundation was strong, and ultimately publishing my book before my 25th birthday in June of 2018.
F: For you, what would be the perfect response from someone having read your book?
E: The perfect response would be that someone got a stronger perspective of life based on what they read. That the book helped shed ore light on real life questions and scenarios they were confused with. Now they understand that life is a journey filled with challenges and to live a meaningful life, they have discovered their purpose based on the guidelines given and have started walking in it. Not only that, they've added God to the equation, and are more knowledgable on how to confront challenges and handle relationships. In addition, they've started being selfless and have seen results. Now daily, they are walking towards living a life of impact.
F: What are you most passionate about and how do you plan to explore, and build on that in the coming years?
E: I am passionate about living an impactful life filled with joy and peace. I am passionate about developing the right relationships, and helping people accomplish their dreams and fulfill their destinies. Also, I believe that no man is an island and as products of our relationships, having been created for relationships, having strategic ones and growing with one another is key for me. I aim to encourage and help people as they journey through life and I want my life to be a true reflection of selflessness, consistency and growth.
To keep up with Emikele, or grab a copy for yourself,
use the social media links above!