Activating #BlackGirlMagic Beyond 2020
November 21 @ 11:00 am

-

1:00 pm

Free
Join us for a FREE 2-hour online experience led by Gen Z and millennial changemakers across Africa and its Diaspora
About this Event
Girls MAP brings womxn and girls from Africa and the Diaspora together for uplifting experiences at home and abroad. Learn more here.
This year has been one of reckoning and hopefully life beyond 2020 will allow for a reset. We have assembled a group of speakers who will share lessons learned this year and how, as a result, they might have reimagined their future.
SPEAKERS
The following speakers will be telling short stories about their 2020 in order to give our community a platform to support one another as we recognize the year that was 2020 and plan our next steps.
Candace Nkoth Bisseck: I quit my UN job in Geneva to be my own boss
Eyitemi Popo: I raised seeding for a deep tech startup during a global pandemic
Meskerem Hyman: At 15 years old, Black Lives Matter inspired me to become a Black Activist
Ifeoma Amaechi: I had to learn new skills this year to help my fashion business survive
Lys Mehou-Loko: High highs, low lows, and moments of uncertainty defined my 2020, here's how I found my 'Blyss'
Catherine Mazhandu: 2020 forced me to move back to Africa 10 years ahead of schedule. It's been…
Closing Keynote by Dr Adanna Steinacker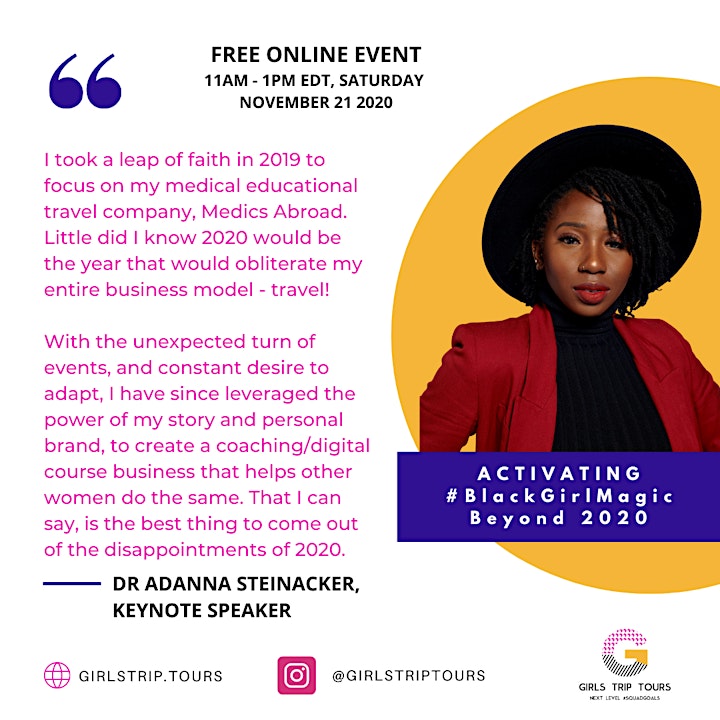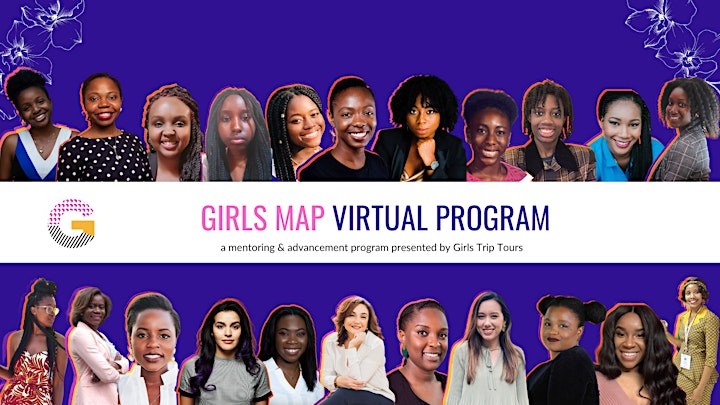 Girls MAP is brought to you by Girls Trip Tours
Girls Trip Tours is a transformative travel experience focused on female empowerment! We host trips to various African destinations with the goal of empowering future female leaders through mentorship, while taking in the sites and dining around town with high profile business women and local industry leaders.
Our uniquely curated travel experiences allow women from all over the world to safely explore an African city with confidence and purpose. Think of it as 'Sisterhood of the Traveling Pants' with less soul-searching and more self-actualization.
We were featured in Forbes as a travel brand that will dominate 2020.