Osoga Nuonu (Pop-Up Dinner)
October 20, 2019 @ 7:00 pm

-

9:00 pm

$27
A food tasting event catering vibrant decadent dishes inspired by my food adventures and roots using gourmet techniques.
About this Event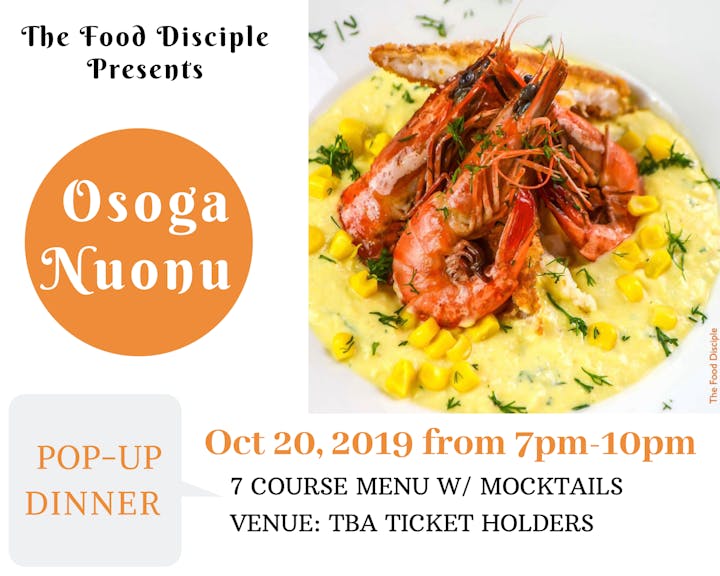 Osoga Nuonu means delicious food from my native dialect Ikwerre. Ikwerre people are located in the Southern part of Nigeria.
Let me wine and dine you as I invite you to enjoy endless mocktails, mouth-watering dishes and intimate conversations .
This is a themed menu and it will be revealed at the event. So come hungry and have your taste buds ready to be wow-ed with flavors from my roots and around the world.
Please Note: This is NOT an allergen free or gluten free event. Menu will include Seafood, Shellfish, Nuts & Diary.
I will only be seating 25 people at the table. So grab your tickets now!.
I strive to provide the best quality and exclusive experience with my guests, as you deserve it!
Dress Code: Business Casual
ATTN Needed:
I am partnering up with an organization Jessie's Centre. Jessie's Centre caters to young pregnant girls ages 14 to 25 who are faced with obstacles such as poverty and social isolation during pregnancy. It was placed in my heart to help out anyway that I can, and I will be extending that at the event.
I would love my guests to come along with donations to help these young women navigate through this new phase of their lives. In any way you can assist them to ease this process, it will be greatly appreciated; nothing is too small.
I will be accepting clothes, non-perishable food and monetary donations at the event.