ZAZAII is the global address for shopping established and emerging African fashion, lifestyle & beauty. With three locations in Nigeria, ZAZAII opens a fourth location in Downtown Toronto!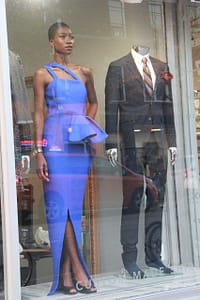 "Zazaii showcases multiple chic, high quality brands, spanning fashion for both men and women. Ranging from traditional African print to modern contemporary pieces. We believe in selling premium products and therefore carefully curate the finest designers to represent the Zazaii brand. Whether you are looking for a stylish casual look or an elegant gown..we have it all. If you don't believe us, come check out our Toronto store and find out." – ZAZAII Toronto
ZAZAII Toronto is home to cutting-edge designers like Rococo, Lady Biba, Bibi Lawrence and Wanger Ayu.
Find something edgy for a girls night out, something sexy for date night and lots for the workplace! Find more selections here.
Sign up for their newsletter here to get 15% off in-store. You can also shop ZAZAII at the comfort of your home online at http://bit.ly/ShopZAZAII-Toronto. Use code; thekscope at checkout for 15% off!
---
I visited ZAZAII last month and tried on a few pieces! Watch a mini clip below. Curated by Deji Fadero. Don't forget to follow us on twitter while you're at it! Looking to buy any of the dresses I tried on? Search Alessandra for the blue dress, Averti for the Green dress and Becca for the pink midi!
https://twitter.com/TheKscope/status/934474980414205953
Thank you for stopping by! Know anyone who would love this! Share this post with them below.